dengan ini beta mengisytiharkan , beta telah

me'make-up'kan

blog kesayangan beta ni . tahun baru , mesti nak yang baru jugak kan ? hari ni tak banyak program beta . sebab tak sihat . sakit sangat kepala disebabkan beta buat kerja bodoh semalam . once again ! yeahh , beta mengaku . this new year is the most worst new year ever .

*english patah-patah

. i dont know . last night beta menangis & menangis & crying & crying .

beta tak tahu . beta tiba-2 teringat pasal kita semalam . beta ingat text awak hari tu yang awak cakap

ACTUALLY , I STILL LOVE YOU

tu . bodoh nya beta

-.-''

masa awak ungkit kenangan kita jumpa dulu tu , sumpah beta menangis . awak macam beri harapan jer kat beta . why can't u just hold me ? and how come it is so hard ? and do u like to see me broken ? and why do i still care ??? arghhh ! benci ! why did you leave me like that ? with that way ? awak kejam . kejam sangat . beta memang belum dapat terima kenyataan ni . i dont know why . stupidiot me !

kalau diberi peluang , beta nak

HILANG INGATAN

. beta nak lupa sapa awak , sapa diri saya , lupakan semua orang ! dan

MULAKAN HIDUP

baru . kehidupan yang kosong , lepas tu beta nak corakkan kembali . tak nak dah menangis macam ni . tiap-2 malam menangis sebab awak .

anyone can HENTAK my kepala sampai hilang ingatan tak ?



*

awak cakap awak sayang saya ! awak tak tinggalkan saya . awak janji saya kan ? mana pergi janji awak ? awak tipu & tipu & tipu saya ! kenapa awak tinggalkan saya dalam keadaan macam tu ? lepas tu , pergi dekat perempuan lain . awak jahat ! i really miss you . saya takkan text , call or everything melainkan awak yang mulakan dulu . i miss your ayat jiwang that can makes me laugh too hard . i miss to call you MONYET and you call me BABUN . i miss when you bully me . i miss everything about you Monyet . but why you still care about me ? siap pasang SPY lagi tuh . everything you know even i didnt tell you . awak beri harapan dekat saya ;'( i try to open my heart with that boy but i cant . maybe its too early . lama-2 dapat lah kott .hmmmm . ;'(

*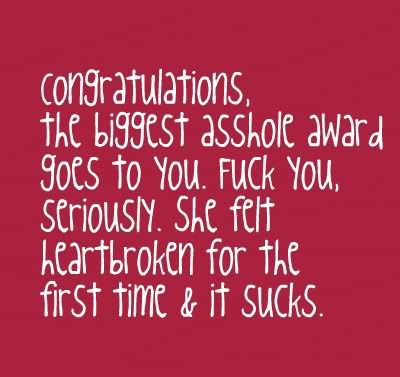 they always said that im strong enough to faced all this . but im not ! saya tak kuat . and they always said that i will meet with my

TRUE GUY

. i hope so . aminn !
picture kita tu ? jangan risau . beta tak pernah & tak akan delete :)
with

Love
♥
: '

yuyun

Monstee
---
Annyeong! Thanks for reading. Do comment! Gamsahabnida ;)
---